ARON THEATRE CO-OP T-SHIRTS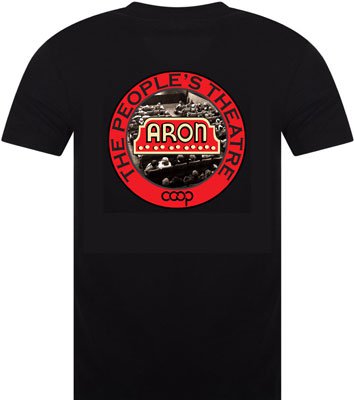 Please support the Aron Theatre Co-op!  Buy this stylish t-shirt for yourself (and others for Christmas gifts), designed by Juno winner and local artist, Rodney Bowes.
Sizes: S, M, L, XL and XXL.
Price: $25 (price includes HST)
When the t-shirts are ready, they will be available for pick-up at Kerr's Corner Books in Campbellford at 39 Bridge Street East, Monday to Saturday, from 10:00 am to 4:00 pm.
If you would like more than one size, please choose the first size and number of shirts in that size, and then click on "BUY NOW" again to purchase other sizes.
*If you have trouble ordering, please contact us at info@arontheatre.com and we'll be happy to help.
Watch how the Aron Theatre Co-op t-shirts were made