COVID-19 Safety Plan - August 2021
Watch our video about our new new ventilation, UVC purification and filtration systems.
See below for information about our new air ventilation, UVC purification, and filtration systems
The Aron Theatre Co-operative is a not-for-profit community-owned business. The health and safety of our customers, volunteers, staff and community members is our top priority. Our theatre has been closed since March 15, 2020 and is re-opening on September 10, 2021.
We used the Ontario Government (https://files.ontario.ca/mltsd-safety-plan-template-en-2020-06-16.docx) and the Haliburton, Kawartha, Pine Ridge (HKPR) District Health Unit (http://www.hkpr.on.ca/wp-content/uploads/2020/12/COVID-Safety-Planning-Tool-HKPR.pdf) COVID-19 safety plan template and checklist to document how our organization will keep employees, contractors, staff, volunteer and customers safe at our theatre during the COVID-19 pandemic.
Organization details
Business name: Aron Theatre
Co-operative Inc., Campbellford, Ontario
Date completed: August 12, 2021
Developed by: Russ Christianson, G.M. info@arontheatre.com; 705-653-0527
Others consulted:  Board of Directors & Staff
The COVID-19 pandemic is an evolving situation, and we review our plan regularly and make changes as required. Refer to the Ontario government's COVID-19 website for up-to-date information.
Our COVID-19 safety plan is available on our website and is posted at the theatre. Updates will be made as necessary, and employees and volunteers will be contacted directely by e-mail.
Vaccination Policy
As a temporary measure, the Board of Directors has determined that all employees, volunteers and customers accessing the theatre must self-assess and confirm they are fully vaccinated.
Eliminate or reduce contacts
In-person interactions will be reduced as much as possible
Require work from home for all tasks that can be done remotely.
Operate virtually, including online ticket reservations.Touchless POS system is in place at ticket and concession counters. Cash transactions are discouraged.
Decrease the risk when contacts are necessary
Keep people who are infected or exposed out of the theatre
Before each shift at the theatre, employees, contractors and volunteers must self-assess using the Government of Ontario COVID-19 worker and employee screening tool
Customers must self-screen using the Government of Ontario COVID-19 customer screening tool
We have designated a safe isolation area in the theatre (the room behind the stage with a separate exit/entrance), and we have created a checklist with the procedures of what to do if some gets sick at work, including key contact numbers. If workers or volunteers must self-isolate, we will find temporary back-up until they are ready to safely return to work.
Ensure physical distancing can be maintained
Limit the number of people in the theatre. With 140 seats, and two meters of physical distancing between people of the same household, our capacity limit is 50%.
Our online and POS ticketing system has a ceiling of 50% of capacity available and ensures appropriate physical distancing.
Plexi-glass shielding barriers are installed at the ticket counter and concession deck.
We ask people to keep a distance of two metres between households.
Employees and volunteers are assigned to workstations that are at least two metres apart.
Floor markings are placed to show people where to line up inside and outside.
Schedule tasks, shifts and breaks to reduce the number of people sharing the same spaces and how long they are there.
Use masks
Provide instruction and supervision to ensure all workers wear masks properly and consistently, including rules for eating and drinking.
Select appropriate masks for employees and volunteers.
Ensure customers wear masks properly and consistently.
Increase fresh air
The Co-op has installed a commercial energy recovery ventilation system to ensure a regular exchange of fresh, outside air with the air in the theatre.
We have installed an ultra-violet C (UV-C) air purification system in the theatre's ventilation shaft.
We have deep pleat filters in our ventilation room to ensure all air is thoroughly filtered before entering the theatre.
Promote cleaning and disinfection
Scheduled cleaning/disinfecting of high-touch surfaces, common areas and shared items.
We are using commercial products for cleaning and disinfecting.
Provide easy access to soap and water and alcohol-based hand sanitizer.
Require everyone to clean their hands as they enter the theatre.
Require workers to clean their hands frequently and whenever needed.
Have a plan and communicate clearly
Communicate
Post signage for employees, staff and customers regarding:

physical distance
capacity limits
screening and self-assessment
wearing masks
hand hygiene

Use multiple ways to provide information to employees, volunteers and customers, such as on-screen announcements, social media and posters.
We will set up a weekly meeting between the operations manager and the concession staff and volunteers to update safety procedures and receive input from the staff and volunteers.
Maintain COVID-19 workplace safety plan
The General Manager will be responsible for monitoring and sharing new provincial and local public health and workplace safety requirements for COVID-19.
Develop a written safety plan (as required under the Reopening Ontario Act). Include how to address new risks introduced by new measures.
Post our safety plan and make it available upon request.
Train employees and customers on the measures and procedures in the plan.
Ensure supervision of the measures and procedures in the plan.  
Monitor to ensure instructions are being followed.
Collect information and report as required
Track information about close interactions at our theatre as may be requested by the local public health unit for contact tracing (www.hkpr.ca 1-866-888-4577, ext. 5006).
Know how and when to report to the Ministry of Labour, Training and Skills Development (1-888-999-2248) and the Workplace Safety and Insurance Board (https://www.wsib.ca/en/onlineservices).
Please contact info@arontheatre.com if you have any questions or suggestions.
Download the Aron Theatre's COVID-19 Safety Plan in PDF format
New air ventilation, UVC purification, and filtration systems
The Aron Theatre Co-op has installed NEW air ventilation, UVC purification and filtration systems.
These systems will improve the indoor air quality of the theatre and protect theatre-goers from airborne viruses (including COVID-19), bacteria, and mold.
The Co-op received expert advice from Jeffrey Siegel, Professor of Civil and Mineral Engineering at the University of Toronto, regarding these systems.
NEW commercial Energy Recovery Ventilation (ERV) system

NEW Sanuvox Quatro UV-C germicidal disinfection lamps installed in the Aron Theatre Co-op air ventilation shaft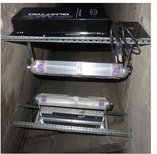 Thank you to Kenetic Energy Ltd. for installing the systems, and for the Ontario Trillium Foundation funding.